ClubBuzz 2
ClubBuzz has been around since 2010 – we've made lots of changes over the years, and we're really pleased that ClubBuzz has become such a great way to manage a sports club. However – ClubBuzz is nearly 11 years old now, so it's time we overhauled the platform. Over the next few months, we'll be moving all clubs over to the new ClubBuzz 2 platform, before eventually retiring the original platform. It's still the same ClubBuzz that you know – but we've rethought the entire platform from the ground up to make it even better for the next 11 years.
What's different?
Website
ClubBuzz 2 is built on WordPress. WordPress is the best website builder in the world, and it's used by almost a quarter of all websites on the internet. We take the view that there's no point in reinventing the wheel – so we've incorporated the best website tool on the planet into ClubBuzz. This means that you can build stunning websites without any in-depth knowledge about website design. However, if you are a bit of an expert, it's flexible enough to let you go wild with your design! For example, there's no limit to what you can do with the navigation bar. The pages are yours to add, remove and reposition – you're completely in control. Here's some fantastic website designs in ClubBuzz 2 which we absolutely love:
What do I need to do?
ali.ns.cloudflare.com
major.ns.cloudflare.com 
Please note, the nameservers are different to your DNS records. Please email us on [email protected] if you're unsure about this step.
Pricing Plans
In ClubBuzz 1, we had 7 pricing plans: Gold, Gold Lite, Silver Plus, Silver Plus Lite, Silver, Silver Lite, Bronze. In ClubBuzz 2 – we've simplified this to 3 plans.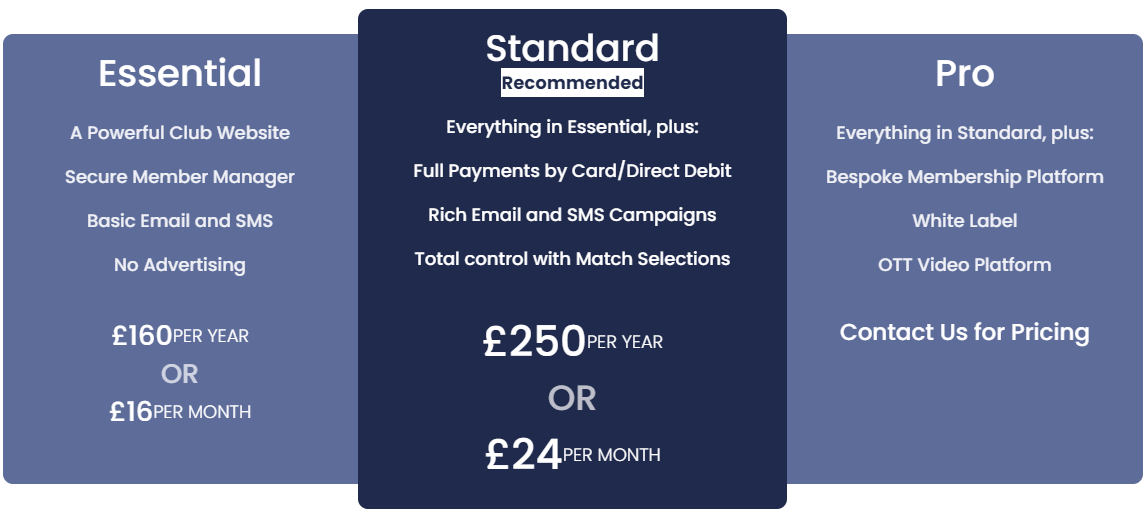 Our Standard plan replaces the Gold plan in ClubBuzz. Standard gives you access to all of the features in ClubBuzz in one simple, easy to use platform.

The Essential plan replaces the original Silver Plus, Silver Plus Lite, Silver, Silver Lite, and Bronze plans. If you're on one of these plans, you'll go to the Essential plan by default. However, if you do want to try the Standard plan – we'd be more than happy to set a demo site up for you.

We're still incredibly proud of our pricing plans. Our Standard recommended plan is 110 GBP per year cheaper than Pitchero. We also never run adverts across any of our pricing plans – it costs 1,080 GBP per year to remove adverts in Pitchero. We're confident that our pricing remains competitive and is best placed to support clubs of all sizes.
Membership Platform
We've overhauled the membership platform. It's simpler, more intuitive to use, and we've vastly reduced the amount of menus that you have to navigate.
Here's some of the features we're most excited to bring to ClubBuzz:

Membership Platform
– Mobile-friendly; The entire ClubBuzz platform is mobile-responsive. This means that it's so easy to use on any device.
-Simplified billing; There's no need to set up complicated subscription accounts – we've made it so much easier to set up a whole host of membership categories in ClubBuzz, with different pricing models.
– Family accounts; One login for one family. There's no need to have different accounts for each child.

Communication
– Rich, HTML emails with attachments on the Standard Plan, completely free of charge.
– Send custom SMS text messages with your own sender ID.
– Phone number for your entire club, with calls intelligently redirected to the right officer in your club.
– Access voicemails directly within ClubBuzz
When will this happen?
Well there's no time like the present!
We're really excited to get you started on the new platform, so we'd love to be able to get you up and running some time next week. We'll get in touch with you about a provisional date, but if there's any reason why you can't be moved over next week, please let us know as soon as you can by emailing [email protected].
However, feel free to get in touch to ask any questions.

Your membership, match, billing records are all safe. These will come over to ClubBuzz 2 automatically.

Your account manager is Jane Saltonstall – feel free to get in touch with her on [email protected] for any help with ClubBuzz 2. If you have a question about the migration, please get in touch with George Constantine on [email protected].